Pickles are an integral part of Indian cuisine. It peps up a boring meal and imparts that oomph factor to otherwise dull menu. In India, there are hundreds of ways in which pickles are made. The ingredients, the vegetables, the fruits, the spices, all vary from region to region, from cuisine to cuisine. Pickle or Achar, could be made from many fruits and vegetables, the most widely used ones are Raw mango, onion, Carrots, turnips, Chilies, Lemons etc.


Generally the base of most pickles is Mustard oil ,due to presence of Glucosinolate, the pungent principle in mustard oil, that has anti bacterial, anti fungal and anti-carcinogenic properties (source:
Sunrise
). So the oil acts like a preservative, apart from imparting a unique flavor to the pickle.
Besides mustard oil, mustard seeds and Mustard dal (husked mustard seeds) is also widely used. The other important ingredients in many of the pickles are Hing, chili powder, fenugreek seeds etc. Lemon juice based pickles are also very popular, and so are the onion garlic based pickles. The spicy, the sour, the sweet, the tangy, the fruity, the "fishy ", the "meaty" you name it and Indians Pickle it ;-)

Today we are sharing with you a pickle made from raw mangoes, probably the most preferred pickle. The recipe and picture is shared by Mrs. Pooja Juriani.
Thanks Pooja for sharing this with us.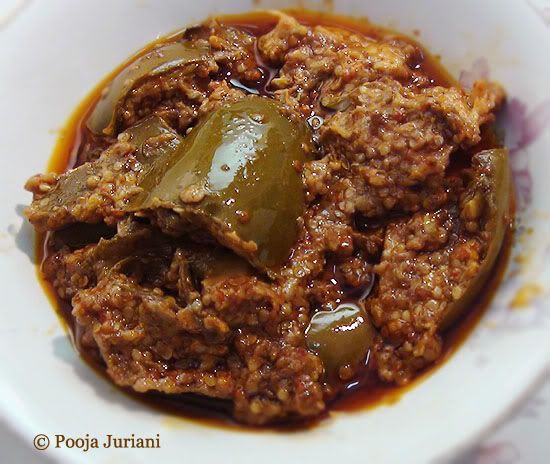 ---
Recipe:
Kairi Ka Achar
(Spicy Raw mango pickle)
Prep Time:5-6 hours of marination, 5 days for pickling(In summer of India)
Cooking Time:10-15 mins
Makes:Approximately 2 kg
Shelf Life:If stored properly under sterilized conditions, it stays good for about an year
Recipe Source:Pooja juriani
Recipe Level: Basic
Spice Level: High
---




Ingredients:

2 kg Raw tender mangoes

500 ml of Edible Mustard oil

15 cloves of garlic

125 gms of husked and coarsely ground Mustard seeds (

Rai Dal

)

100 gms of Ready Pickle masala(Ram Bandhu Ready pickle masala, or any other brand will do)

Salt approx. 4 tbsp
Special Utensils:



Sterilized porcelain jar or Glass jar to store pickle
Procedure:
Wipe the raw mangoes with damp cloth and then cut the mangoes (or get it cut from vendor) into small chunks.
Add salt and turmeric (optional) and keep in Sunlight for 5-6 hours.
Meanwhile boil the Mustard oil till it reaches smoking point.Put off the heat.After 15 minutes add chopped /crushed garlic.5 minutes later, add coarsely ground husked mustard seeds (Rai Dal) and finally add the readymade pickle masala.Mix well.Let it cool till it reaches room temperature .

Pour this mixture over the mango cubes and mix well.
Transfer every thing into a properly sterilized and dried porcelain or glass jar.
Tie a muslin cloth at the rim of jar and close the lid well.
Keep the jar in sunlight for 5-6 consecutive days, and do not forget to shake the jar once in a while, each day.Depending upon the climatic conditions, the pickle will be ready to consume within 5-8 days.

---
Special Notes/Tips:
Always store the pickles in porcelain or glass jar.
Never use a wet spoon to scoop out pickle.
In case of oil based pickle, make sure that the contents of pickle are completely immersed in oil. The stuff above the level of oil, might get spoiled with fungus pretty soon.
Never be greedy while relishing pickles.The high salt and oil content is not good for health, if consumed in generous quantities.
This pickle could be stored well with or without refrigeration for atleast 6 month to one year.
If at all a white fungal layer is seen on the top of pickle, just remove the spoiled portion, heat some more mustard oil, let it cool, and pour over the pickle.