First things first...
Beyond Curries
just turned one ..Yeah !
Time flies as if it has nothing else to do. It seems just like yesterday, when Sia took the initiative and slowly but surely a team was formed to bring to you all the delicacies of Indian Cuisine. Now after a successful one year of being together, it feels great to be a part of a lovely team as this. In today's world when jealousy and Ego clashes ruins a family, we the team of BC, are proud to be together , sharing recipes with you all, but back stage, we also share our woes and happiness with each other in the team. So here's to our friendship, to Beyondcurries's 1st birthday, and to all the lovely readers of this blog.... Cheers, err, with The Green Lady... A
lemony
Khus Sherbet
!
Khus sherbet
or the sugar syrup made by using the Essence (oil) of the Khus Grass (vetiver) is a well known Ayurvedic /Unani cooler. Khus sherbet, not only have cooling effects on body but also it works as blood purifier and is also helpful in calming the nerves, a good diuretic, and it also reduces the acidity in body.
Khus

or

Vetiver Grass

,

Vetiver

, found abundantly in India, is of Asian origin. It gets its name from the Tamil word 'vetriver', meaning root. From India it traveled to the West Indies, Fiji and Africa, where a new use was found for it - as a sponge to hold the soil in place and prevent erosion, according to a report by the Academy for Mountain Environics, an NGO based in Dehra Dun, in north India.

(

Source : Pitara.com)




The oil of khus is amber brown and rather thick. The odor of vetiver oil is described as deep, sweet, woody, smoky, earthy, amber, balsam. The best quality oil is obtained from roots that are 18 to 24 months old. The roots are dug up and cleaned then dried. Before the distillation, the roots are chopped and soaked in water. The distillation process can take up to 18 to 24 hours. After the distillate separates into the essential oil and hydrosol, the oil is skimmed off and allowed to age for a few months to allow some undesirable notes which form during the distillation to dissipate. Like patchouli and sandalwood essential oils, the odor of vetiver develops and improves with aging. The characteristics of the oil can vary significantly depending on where the grass is grown and the climate and soil conditions. The oil distilled in Haiti and Réunion has a more floral quality to it and is considered of higher quality than the oil from Java which has a smokier scent. In the north of India, an oil is distilled from wild-growing vetiver. This oil is known as Khus or Khas and is considered superior to the oil obtained from the cultivated variety. It is rarely found outside of India as most of it is consumed within the country.
(Source: Wiki)
The
Khus sherbet
could be enjoyed in variety of ways ranging from simple sherbet, to mixing it with club soda, or lemonade or adding a dash over Icecream, or mixing it with orange or mango juice to make Mocktails.
To make
Khus sherbet
, just boil 3 cups of water with 4 cups of sugar. Add freshly squeezed Lemon juice of 1 lemon to remove impurities of sugar if any. Boil till the syrup achieves one thread consistency. Let it cool down, then add about 1-1 1/4 tsp of Khus Essence and mix well. Store this in sterilized bottle. and refrigerate. Commercially available Khus syrup have added Green food colour. You may do so, or just use it without adding any colour.
Alternatively you can buy a bottled syrup of any well known brand.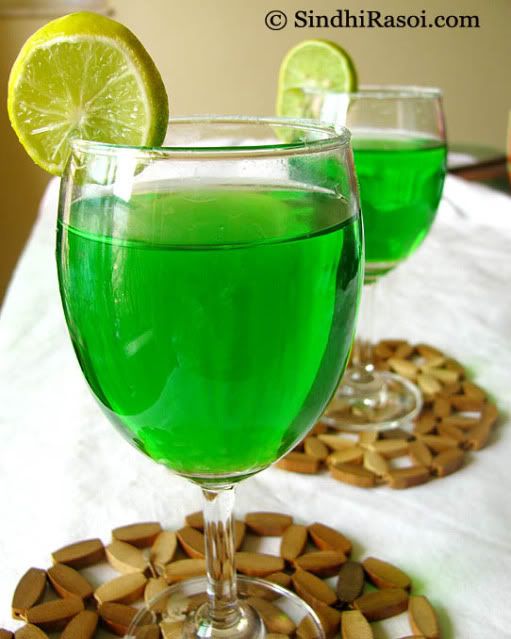 Green Lady, A
Lemony Khus Sherbet
---
Recipe:
Green Lady, A
Lemony Khus Sherbet
Prep Time:
2 minutes
Makes:
2 Servings
Serves:
2 People
Shelf Life:
Consume immediately
Recipe Inspiration/Source:
Sanjeev Kapoor
Recipe Level:
Basic/Beginner
Recipe/Post by:
Alka
---
Ingredients:
4 tbsp of Khus Syrup
A pinch of salt
1 tbsp of Lemon Juice
Crushed ice
2 Glasses of lemonade
2 Lemon slices


Procedure:
Mix together Khus syrup, salt and lemon juice.
Add crushed ice and lemonade and stir well.
Pour this into two glasses and garnish with Lemon slice.
Serve chilled.
Sending this to Indrani's
Summer Food and Drinks
event