This month Beyond Curries is trying to bring to you the fusion food or Indianised Food, adapted from various Cuisines, tweaked to please the Indian Taste buds, and mostly made in a Healthier way than traditional ones. The concept is to show you how we can adopt and adapt other wonderful cuisines to our style like Thai, Mexican, Chinese, American, you name it, we tweaked it to suit our palates and in the process enjoy the best of both worlds.
So whats cooking today? Wrap...Eggetarian and Vegetarian!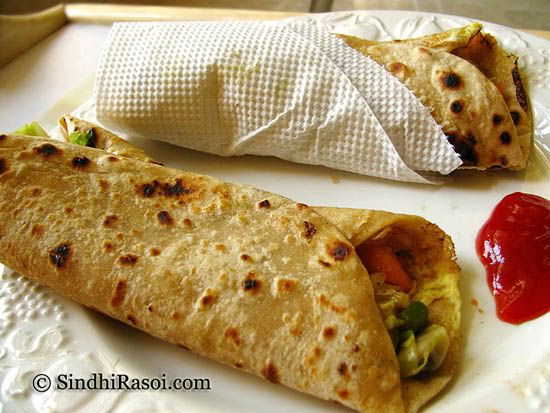 A wrap is a variant of a taco or burrito which includes traditional sandwich fillings wrapped in a soft flour tortilla, pita, lavash or other soft flatbread. It is not served on a deli, hoagie, or submarine type roll. The most popular wraps contain chicken,[citation needed] but beef and shrimp are also served. Typical toppings include shredded lettuce, diced tomato or pico de gallo, guacamole, sauteed mushrooms, bacon, grilled onions, cheese such as Cheddar, and some condiment, such as ranch or honey mustard dressing.(source :Wiki)
In India Wraps were common since long, known as Kati (kathi) rolls, these were originally made with Kebab (mutton/beef) cooked in patty or kebab shape, and rolled in a Shallow fried paratha. Back home, as kids we were served the not-so-fond-of-dry-veggies, rolled in the usual Roti/phulka, with some tomato ketchup to dunk in. Memories of licking the ketchup and savoring those rolls, and then eating peacefully, forgetting that it actually held the dry curry which we were not fond of, still brings smile to my face. Do you have any such food memories of childhood?
Traditionally made with Tortilla or pita bread, in India usually the wraps are made using All purpose flour, a not so good option you see. But making use of wholewheat flour Roti or paratha comes with a hitch. The roti somehow lack the body to hold the filling well. So to overcome it, generally one side of roti is smothered with a layer of beaten egg, while cooking. But vegetarian people need not worry, just check the Notes at bottom of the post for vegetarian substitute.
---
Recipe:
Wraps
(Wholewheat Rotis, stuffed with veggies)
Prep Time:20 min.
Cooking Time:2 minutes for each Wrap
Makes:4
Serves:2 Adults
Shelf Life: Tastes best when consumed hot and fresh, but could be packed for tiffin(Lunchbox)
Recipe Level: Easy
Spice Level: Low or Medium
Recipe/Post by:
Alka
---
Ingredients:

For Wraps:
Two cups (or 4 handful of) wholewheat flour (Atta)
Half cup of All purpose flour (seriously optional)
Salt and pepper to taste
1 tsp oil




For Filling/stuffing :

5 Fresh Button mushrooms
1 capsicum
1 carrot
2-3 French beans
Shelled peas, just handful
60-70 gms of Paneer
1 Onion
Half cup of shredded Cabbage
Salt to taste
1 tsp oil
2 tsp of Curd/yogurt
1 tsp of ginger garlic paste
2 pinches of turmeric powder
1-2 green chillies, crushed or finely chopped
1/4 tsp(bit less ) of any of the following masala you have, garam masala, pavbhaji masala, chana masala, Kitchen king
1 Beaten Egg
Procedure:
Sieve atta and all purpose flour (if using) along with salt and add pepper (red or black any one will do)
Knead the dough using some water till soft and pliable.
Add 1 tsp of oil and keep it covered for 10 minutes .
Beat the yogurt/curd, add some salt, turmeric powder ginger garlic paste, green chillies, garam masala (or any other that you have), mix well till smooth, add paneer cubes and keep it aside for 5 minutes minimum.
Meanwhile, clean and chop mushrooms, and boil these till brownish in colour. Drain and keep aside
Blanch/boil in open vessel, sliced/chopped carrots, beans and peas till tender.
In a pan, pour 1 tsp of oil, add sliced or chopped onions and saute till pink (Do not brown these)
Add Mushrooms, saute for few seconds, add shredded cabbage, boiled veggies, and mix in the beaten curd along with paneer cubes. Add chopped capsicum, adjust seasoning and let the mixture cook till all the flavors combine. If you are not confident enough, just add curd first, and leave the paneer cubes aside to add in end of the procedure so as not to crush the tender paneer pieces.
Cook till mixture is dry. You can add spoon or so of Besan (chickpea flour) to make the mixture dry and crispy.Garnish with coriander leaves (and lemon juice if it lacks the tang) and keep aside.
To make the wraps, divide the dough into 4 balls. Roll each one to make a roti. Place it on hot griddle, lower the flame and gently spread about tsp or more of beaten egg to which a dash of salt and black pepper is added.
Flip the roti and let the "egged" side cook on low flame, drizzle some oil to make the roti crisp.
Cook on both sides till small brown spots appear.
Now take it off the heat, carefully place some of the stuffing (do not over stuff) in center of roti and gently fold it to form a wrap. Read the instructions here to fold the wrap in a nice way.I just rolled my roti and enjoyed ;-)

Repeat the same for remaining dough, wrap individually in a tissue paper or kitchen roll and enjoy a wholesome wrapped meal.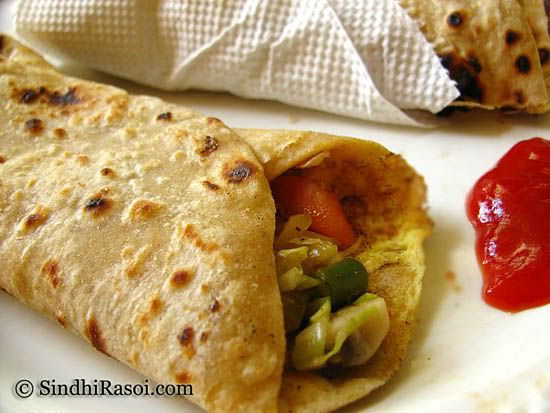 ---
Special Notes/Tips:
In case you do not want to use egg, just make a paste (thick batter) of Besan (chickpea flour), add some salt, pepper and Ajwain (optional). Mix it well and apply on the roti while cooking, the same way as we used eggs.The besan layer serves the same purpose as Egg layer, that is giving Body to the wrap.
Add or subtract any veggies that you have with you. Tofu could be used instead of paneer, you can use other vegetables like cauliflower(blanched), potatoes (boiled)..or any thing edible that you fancy. Just make sure it doesn't leave the stuffing soggy or else wraps wont be able to handle it.