Mornings are hectic..is there anyone who feels otherwise? Lucky you !

Anyways, in the maddening rush of waking up cranky kids, going through the mammoth task of feeding them early morning before going to school so that they have the energy to go on till Recess, budging kids to get ready for school, fixing breakfast, lunch, packing tiffins etc.

You pause to breathe when finally they leave for the day, but just then you remember the unending chores of daily life, stuffing laundry in washing machine, making breakfast for rest of the family, packing their lunchboxes, and if you are a working woman, pack yours too, giving instructions to your help, wondering what to keep handy for kids to munch upon after they are back, sipping that three times heated Tea/coffee (coz, every time you thought to sip one, some or other important task made you leave that precious cuppa and go through the daily grind) you suddenly feel grumpy cause now after taking care of everyone else in family you simply forgot to make something to eat for yourself? Sounds like your story ? Well then welcome to the club of "Good mothers-bad- eaters ladies", who can take care of every one around, except herself.

It happens with me many times, not that I am too doting or too sacrificing homemaker, I am just lousy when it comes to make something for myself. But knowing that eating healthy and filling is just as important for me as it is, for the rest of family, keeps me away from binging on Maggie (ah the comfort but!) or crackers for breakfast. So some quick fix (that's the most important factor when it comes to cooking for myself) yet healthy stuff, is what I always look for.

Savory pancakes are one such thing that I love to fix for myself when I am into Oh-doesn't -feel-like-cooking mode, its easy, its healthy, its filling and I can play with the ingredients to make it
taste different every time, so it saves from monotony too.

---
Recipe:
Cheela (chilra)
Savory wholewheat flour Pancakes
Prep Time:
5 minutes
Cooking Time:
8-10 minutes
Makes:
3
Serves:
1 adult and 1 kid
Shelf Life:
Serve right away!
Recipe Level:
Basic
Spice Level:
Low
Recipe/Post by:
Alka
---
Ingredients:
2 cups Whole wheat flour (Atta)
1 tsp Semolina (sooji)
1-2 tsp Gram flour (besan)
1 Medium size Onion
1-2 Green chillies(Adjust as per need)
1 tsp Cumin Seeds
A pinch of Soda bi carbonate (Meethi soda) or baking soda
A handful of chopped, fresh coriander leaves
1/2 tsp Dried pomegranate seeds crushed (optional)
Salt as per taste
Water to make dough
Oil to shallow fry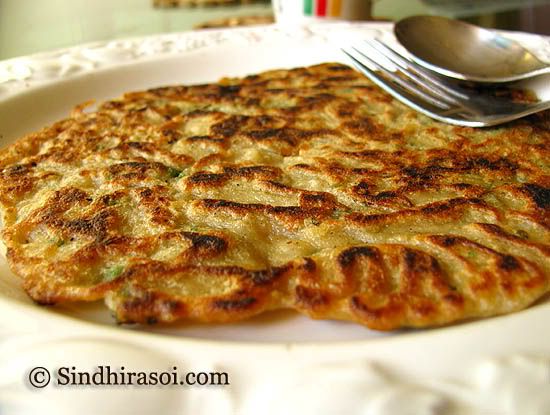 Procedure:
Peel and finely chop onion.Chop chillies and coriander too.
Sift the flours , add rest of ingredients except water and oil.
Mix well, then slowly add water little by little, mixing properly so that no lumps remain and a batter of thick consistency is obtained.The consistency should be something in between of Dosa and Uttapa.
Heat a griddle (preferably Iron griddle), drizzle some oil, and carefully pour a ladle full of batter and gently spread it a little so as to make a pancake/uttapa/thick dosa. Lower the flame while pouring and raise it to medium level as soon as you finish spreading.
Drizzle some more oil and flip/toss it on other side after few seconds, when the surface starts appearing dry.
Cook on both sides, flipping at intervals, keeping the flame in between medium to low, drizzling a tad of oil if it appears to stick to the griddle.
Cook till crispy brown, and relish it piping hot with Ketchup/Mint coriander chutney with some freshly made tea/coffee.
---
Special Notes/Tips:
If you are finding it hard to break the lumps, CHURN it with manual churner (Mathni).
You can add some grated vegetables like carrot/radish or can add spring onions/ Fenugreek leaves/ cheese etc to make it more healthy and filling and to taste different.
Instead of whole wheat flour, you can use Gram flour which taste equally great