Yes, its not at all an exaggerated statement, that Gajar ka Halwa rules the dynasty of Indian Desserts/Pudding. Each Indian family surely have at least one family member who will always go Ga-Ga over this Carrot Pudding , a Classical Sweet dish, which dominates most of the Food spreads during Marriages, celebrations, Get together etc.
Since this month we, at Beyond Curries, are celebrating Festival Food Theme, what will be more fitting than a bowl of warm , sweet, rich, delicious Gaajar Ka halwa, since Winters here in India , brings along bounty of Red Juicy carrots, so apt to turn into marvelous pudding.
A Word of caution...If you are one of those unlucky types who are unable to find Red juicy ones, go ahead with orange carrots available nearby, but be sure, the difference in the taste might upset you, if you know how the traditional Carrot
halwa
tastes.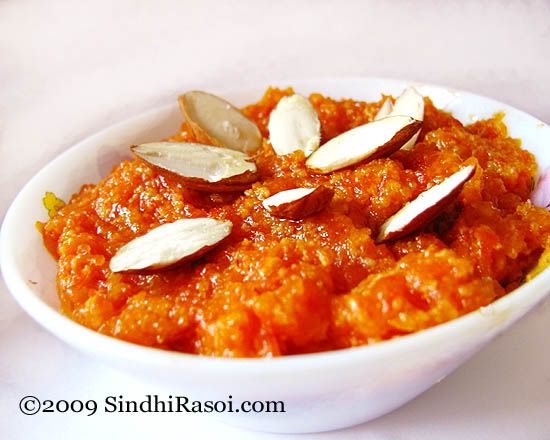 ---
Recipe:
Gaajar ka Halwa
(Carrot Pudding)
Prep Time:
10 min
Cooking Time:
Around 25-30 mins
Serves:
4-5 persons
Shelf Life:
Could be refrigerated for a week, but then sweets made by using milk should be consumed as soon as possible.
Recipe Level:
Medium
Spice Level:
None..Its a sweet dessert :-)
Recipe/Post by:
Alka
---



Ingredients:


Red juicy Carrots 1 Kg
Sugar 500 gms or less as per your taste
Milk 2-3 cups
Green cardamon(Choti elaichi) 4-5
Khus khus 2 tspn(optional)
Ghee or vegetable oil 2-4 tbspn (Depends upon your guts to indulge)
Cashewnuts (Roasted or raw) 10-12
Raisins 10-15
Almonds(Roasted or raw) 5-6
Special Utensils:
Thick bottomed pan or kadai or a nonstick pan( not actually recommended, but you can go ahead with this)
Procedure:




Wash, peel the carrots and grate them.
Soak khuskhus in water, for few hours,then rinse 3 or 4 times with water with help of tea strainer.Drain properly.

In a thick bottomed

kadai

, pour two to four tablespoon of ghee or oil, add khuskhus, and saute it for few seconds on medium flame,taking care not to burn the khuskhus.
Add grated carrots and elaichi and saute again for few minutes,stirring continuously so that carrots don't turn brown.This might take anywhere between 4-7 minutes, depending upon the intensity of flame and the thickness of vessel. So trust your instincts.The need is to get a slight change in colour and texture of carrots, which , by now should resemble a partially cooked mass.

Add 2-3 cups of milk and let it boil on low flame till the mixture is almost dry.The quantity of milk will decide the texture and richness of Halwa.More the milk, more the richness, softer(mushy) the halwa. Less milk will make halwa more visually appealing but less rich in taste.The choice is yours :-)

Add sugar and mix it properly and continue to cook it till no more milk is visible.The halwa by now had dried up enough to give you a dry mixture of delicious carrots, milk and sugar. Can anything go wrong with this combination?

Let the halwa cool down a bit (but warm enough) , then add chopped almonds, cashews and few raisins and serve it with love.
---
Special Notes/Tips:
Many prefer to use Khoya in addition of milk.But it too add up calories though the richness of taste enhances surely.
Addition of khuskhus is optional, though some like the crunch it imparts .
One can use raw dry fruits of dry roasted or even fried nuts .I preferred non roasted ones.
Generally Gajar ka halwa is served warm, but some people like to pair it with vanilla ice cream.Be experimental :-)