Poha or flattened rice is a very popular Breakfast in India. The easy to make and easy to digest Poha will always come to your rescue whenever you are in hurry to fix some quick and healthy breakfast .
Poha or Flattened rice (also called beaten rice) is a de husked rice which is flattened into flat light dry flakes. These flakes of rice swell when added to liquid, whether hot or cold, as they absorb water, milk or any other liquids.

There are various recipes to use Poha in variety of ways.


As per Wiki here are some suggestions:

Chniré'r pulao

:- A snack prepared by immersing the rice flakes in cold water, drying them, and then preparing pilaf-style with nuts, raisins, black pepper, green chillies, and salt and sugar to taste. This is very popular as a breakfast or evening dish in families, and may not be available in any stores or restaurants.

Chniré bheja

:- Some flakes are immersed in a bowl of usually cold water, flavoured with lime juice, salt, sugar, and a little black pepper.

Bajeel Ogarne

:- Here beaten rice is seasoned with mustard seeds, coconut oil, red chillies.

Beaten rice with curd

s :- Here beaten rice is soaked in water and then sieved. Curd is added with table salt, preferably eaten with mango or lemon pickle.

Kanda Pohe

:- In this dish beaten rice is soaked and sieved. Small pieces of boiled potato, onion, mustard seeds, turmeric and red chilli are seasoned and mixed with beaten rice and served hot.

Dadpe Pohe

:- Thin or medium beaten rice is mixed with fresh coconut, grated green mangoes, chili powder, and coriander. Then it is seasoned with salt and a tadka (fried mixture) of peanut oil, mustard seeds, turmeric and finely chopped onions.

Sweet Bajil

( Tipe Bajil in Tulu ):- Beaten rice is mixed with jaggery and grated coconut.]

Khara Bajeel

:- The beaten rice is mixed with red chilli powder, salt and coconut. Sometimes seasoned.

Sajjige Bajeel

: - Combination of upma and Khara bajeel.

Dhaiyya Phovu

: - Combination of yogurt, sugar and phovu.

Today let's concentrate on Kanda(Onion) Poha and I am doubtful whether there could be any Indian who haven't tried this famous Maharashtrian dish.The piping hot kanda poha, garnished with fresh coriander leaves and some dash of lime juice, accompanied with some Farson (sev, papdi, bhujiya etc) or some crunchy papad is a nice way to start your day with .
---
Recipe:
Kanda Poha
(Beaten rice flakes with onion)

Prep Time:
5 minutes
Cooking Time:
15 -20 minutes
Serves:
2 people
Shelf Life:
Tastes best when eaten piping hot
Recipe Level:
Basic/Beginner/
Spice Level:
Low to Medium
Recipe/Post by:
Alka
Ingredients: Poha 2 cups (beaten rice flakes... pick the thick one variety)
Onion 1 (cut in thin slices)
Curry leaves
Mustard seeds 1/2 tsp
Green chillies 2
Turmeric powder
Salt to taste
Oil 1 tbspn



Special Utensils:


Colander to drain the excess water from rinsed poha

Procedure:
Pick, sieve and wash poha well, by either soaking in water for few seconds and then draining excess water by using colander or place the poha in colander and run water through it till water runs clear. Set it aside to drain and later add salt as per taste, mix gently with fork taking care not to break the flakes
Peel and slice onion and chop green chillies

Heat oil in

Kadai

or pan, add curry leaves and mustard seeds, allow it to splutter.
Add sliced onion, and saute till tender but do not let the onion get browned.

Now add green chillies,turmeric powder and finally salted poha and mix them gently.Cover the pan with lid.

Cook on low flame for about 3-5 min.

Garnish with coriander leaves and freshly squeezed lemon juice.
Serve hot with papad or thin

sev

or

farsan

of your choice.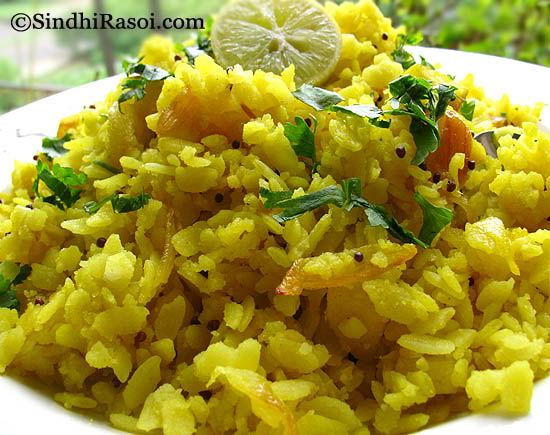 ---
Special Notes/Tips:
This is a basic Poha recipe, you can make it more nutritious, spicy, colourful and tasty by adding different vegetables .
For instance before, before adding sliced onion, add one peeled, sliced and salted potato, saute it for some time and then proceed with above given method. This is Oh-So-Popular

Batata(potato) poha

.
Adding shallow fried peanuts give the poha a nice crunchy twist.
You can also add a tomato, after potato and onion is cooked to give poha a tangy taste.
Chopped carrot and beans and boiled fresh peas when added to regular poha, not only make the poha more nutritious but also visually appealing due to lovely colours of vegetables.