Dabeli
or
Katchi Dabeli
or
Double Roti
is a street food mostly originated in Kutchi/Gujarat and very popular street food sold in Mumbai/Bombay. In my engineering days I survived eating these Dabeli for my lunch and sometimes for dinner from our campus Bakery. It is also known as Kutchi Dabeli or Double Roti and uses a special spice blend called
Dabeli Masala
.
Today I am going to post the recipe for preparing spice powder or masala which is the key ingredient in making Dabeli stuffing. This recipe for
Dabeli Masala
or spice powder is from Raghavan Iyer's 660 Curries. Once you have prepared this spice blend you are ready to assemble delicious Dabeli (recipe to follow shortly) in jiffy. So shall we proceed and make this aromatic spice blend that takes just few mins of your precious time?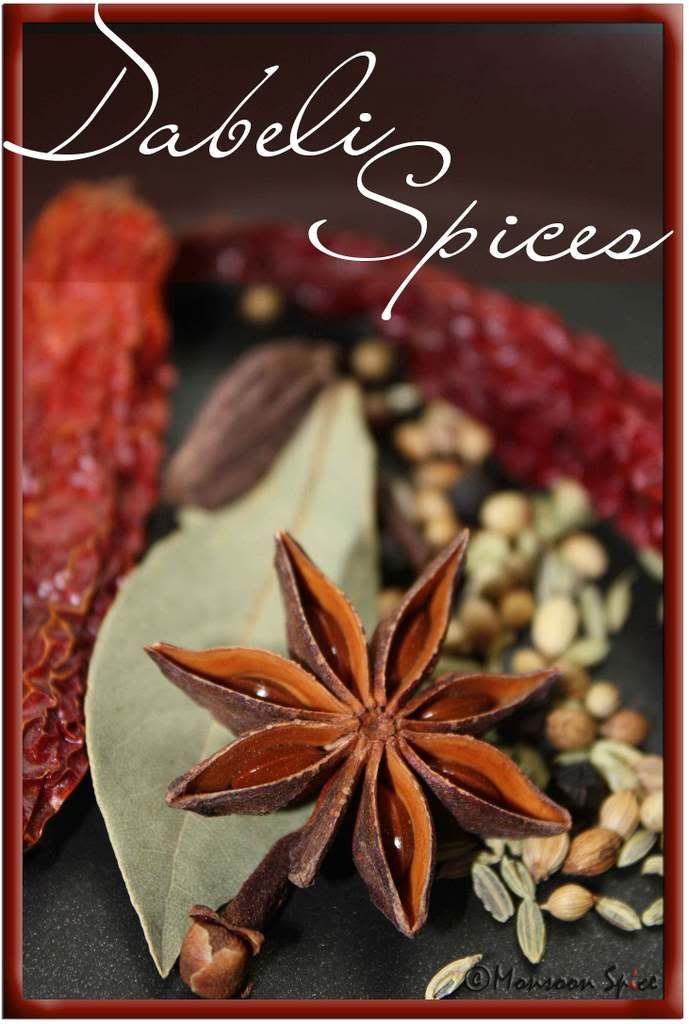 ---
Recipe:
Dabeli Masala
(Spice blend for Dabeli, a street food from Kutch, Gujarat)
Prep Time:
5 min
Cooking Time:
None
Makes:
Around 2 tbsp (sufficient for 5-6 Dabelis)
Shelf Life:
1-2 months
Spice Level:
Medium
Recipe Level:
Easy/Beginner
Recipe Source:
660 Curries
Recipe by:
Sia
---
Ingredients:


1 tsp Whole Cloves (about 4-5)
½ tsp Fennel Seeds
½ tsp Black Peppers
½ tsp Coriander Seeds
4 dried Red Chilies (Thai or Cayenne), stems removed
4 blades of Mace or ¼ tsp Ground Mace
2-3 Whole Star Anise
1-2 Dried Bay Leaves
Seeds from 1-2 Black Cardamom Pods
½ tsp Ground Ginger
Pinch of Turmeric Powder
There is no roasting of spices involved in making this aromatic Dabeli Masala. All you have to do is place all the ingredients in a spice blender or coffee grinder and grind to fine powder.
Store it in an air tight container till needed. It will last for 2 months when stored in fridge.
---
Special Notes/Tips:
Most of the ingredients listed above are easily available in any Asian stores.
If you can't find any one or two ingredients, then simply omit them and proceed to make the spice blend.