My family sitting in a Restaurant:
Hubby pondering over vegetable gravies, me eying Chinese...
Hubby: "Lets order Paneer in some gravy."
Me: "But we had it last time, and before that, and before that too."
Hubby: "Ok! lets order some Mixed vegetable kadai."
Me: "Nopes, it tastes sweet."
Hubby: "Or some soyabean masala?"
Me: "But the gravy is similar to Butter paneer."
Hubby: "Ok, got it! you want Chinese, right?"
I am about to shout "yes," but curb my excitement, since the waiter is already there to take the order.
Our son(whose presence was mostly neglected till now)... "Uncle, kindly bring A Masala dosa, a Sada dosa and
Medu wada
plate."
Me: Growling (forgetting that the restaurant guy is still around).. "Why do you want dosas and medu wadas at every restaurant we visit? Don't we eat same at least twice a week at home?"
Our son: "Oh yes, but then dosas at home are not this crisp and
Medu wadas
are oily or not crisp."
Me: Wondering whether to get angry at his blunt, brutally honest remark or be proud of him, that he, like his mother, has a good sense of food and taste, not to forget the texture too!
Well now that the truth was out, it was time to take action and scrutinize the method I followed till date, to know the mistakes I make, and to learn finally, how to make at home, crispier dosas, fluffier Idlis, and crispy
medu wadas
.
Mission one and two were easy breezy since I learnt how to make fluffier Idlis from
here
and here, and crispier dosas from
here
. The next target obviously were, some crunchy from outside, fluffy and chewy from inside,
medu wadas
, not to forget the shape(previously my wadas resembled maps of different countries of the world).
After lots of googling and reading , learning the do's and don'ts of making this famous South Indian snack, I came away with better looking crispier ones.
Kindly excuse me, for daring to venture into A South Indian zone, despite some great South Indian Bloggers in our Beyond Curries team. Thanks dear Team, for encouraging me to post this.
---
Recipe
Medu Wada
( Doughnut shaped Urad Dal fritters)

Prep Time:
4-6 hours for soaking Dal,and 20 minutes for washing and grinding

Cooking Time:
20 minutes

Makes:
12-14 Wadas depending upon size

Serves:
4-5 people

Shelf Life:
The batter should not be ideally stored, since re-making the wadas after freezing will make render it oily or the refrigerated batter may turn watery, thus making it difficult to shape them properly. The wadas could be half fried and stored for 1-2 days

Recipe Level:
Easy or Medium

Spice Level:
Low
Recipe/Post by: Alka
---
Ingredients:
Urad dal(white) 2 cups
Green chillies 2-3
Salt as per taste
Coconut(few small chunks of it..optional)
Some Curry leaves
Very little Water for grinding



Special Utensils:


A sturdy grinder for grinding dal
A polythene bag,or ziplock bag(explained below)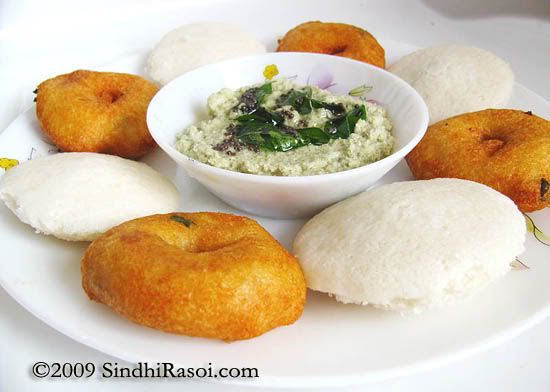 Idli, Medu Wada & Coconut Chutney
Procedure:
Pick, rinse and soak urad dal for about 4-6 hours. You can soak it overnight if you intend to make these for breakfast.
Change the water (you may need to rinse it again ) and drain in colander to get rid of excess water.
Now keep few things ready....Firstly chop into fine chunks some coconut, chop some curry leaves, a large bowl filled with water, oil for frying in a frying pan, a polythene/ziplock pouch or empty milk bags(like those of Amul/Mahananda). Just cut open one such bag, and clean it thoroughly.
Get back to dal, grind it till smooth, but do not add water liberally. Just sprinkle few drops of water and start grinding. If needed keep sprinkling few drops over dal again and again, to facilitate grinding. Remember that the batter should be thick and not of pouring consistency. Add ginger, green chillies, few black pepper corns(optional) and salt while grinding the dal.
Transfer the batter into a large bowl/container and add chopped coconut and curry leaves. Mix properly in one direction to incorporate some air. This helps in getting fluffier wadas.
Heat oil, place the cut opened polythene bag over some flat surface, and spread few drops of water over it to develop a very thin film of water.
Now take about approximately 1 tablespoon of batter with your wet fingers and gently tap it on surface of polythene bag , which was GREASED with water.
Gently make a hole in center, forming a doughnut shape and carefully pick the polythene sheet in your left hand(or right, if you are lefty), wet the fingers of your right hand , transfer the doughnut shaped wada on wet fingers, gently shake them over hot oil, taking care that few tiny drops of water might trickle down from your hand and cause spluttering. Once the wada lands successfully in oil, reduce the flame.
You can fry the wadas one at a time, by repeating the same process, or if you are comfortable , fry few at a time in a single batch.
Fry these over medium flame till crispy golden brown.
Drain out the excess oil by placing these on kitchen towel.
Enjoy hot crispy wadas with Sambhar or coconut chutney.

---
Special Notes/Tips:
The batter should be thick, so use water sparingly while grinding.
If the batter turns bit thin, add 1-2 spoons of rice flour, mix properly and carry on with frying.
If that is one bad day for you, and batter is still runny, even after adding rice flour, then simply forget circular doughnut shape, spoon blobs of the batter in hot oil as done while frying fritters(bhajji, pakora). Fry them on medium flame till yellow in colour, remove from oil, let these cool a bit, poke a hole in center with thumb/finger and double fry again. A not so good version of medu wada..agreed, but better than discarding the batter .
Traditionally a medu wada is fried by simply taking some batter on wet finger tips, and directly sliding it in hot oil. But not everyone can be good in this art, atleast for first few sessions of making Medu wada. Hence, using the polythene sheets/banana leaves to shape the wadas, give you more confidence initially.
The picture shows some Idli and

Medu wada

with coconut chutney. The recipe of Idli is given here , while that of chutney will soon follow.