Mint and Coriander
Chutney
is to North Indians what Chili con queso is to Texmex cuisine, Guacamole is to Mexican, Nam Pla is to South East Asian, and Mayonnaise is to European.
We love to dip almost any snack in this lovely, flavorful, easy to make , tangy
chutney
,which is an indispensable item for many street foods too , in North of India
A dip or dipping sauce is a common condiment for many types of food. Dips are used to add flavor to a food, such as pita bread, dumplings, crackers, cut-up raw vegetables, seafood, cubed pieces of meat and cheese, potato chips, tortilla chips, or falafel. Unlike other sauces, instead of applying the sauce to the food, the food is typically put into, or dipped, into the dipping sauce (hence the name).

Dips are commonly used for finger foods and other easily held foods.

Dip is a very widespread food. Forms of dip are eaten all over the world.


(Source:

Wikipedia)
The fresh coriander leaves with flavorful Mint leaves and few other ingredients makes the
chutney
a wonderful condiment to dip snacks like
Samosas
,
Pakoras
(
Bhajjis
),
Tikkis/Patties
and it is also used as a spread on bread slices to make different sandwiches.The Coriander
chutney
is an integral part of Mumbai's World famous Vegetable Sandwich.This Dip is also known as
Hari (Green) Chutney
in local language
The recipe for
Mint Coriander Chutney
is very versatile, you can throw in different proportions of Mint and Coriander depending upon what flavor you like to dominate. Generally More of coriander leaves and lesser amount of mint leaves are used in this condiment, but you can go ahead and experiment.
---
Recipe:
Hari Chutney
(Coriander Mint Chutney)
Prep Time:
15-20 mins
(that includes picking mint leaves)
Cooking Time:
5 mins
Makes:
Around 1 cup of Chutney
Shelf Life:
7 days in refrigerator, but better to consume within a day or two if using tamarind and spinach
Recipe Level:
Basic/Beginner
Recipe/Post by:
Alka
---
Ingredients:


A small bunch Coriander leaves
Few twigs of Mint leaves
5-7 Spinach Leaves (optional)
2-3 Green chillies (Depending upon your taste)
Tamarind, a small lump
4-5 Garlic cloves
1 inch Ginger piece
1/2 tsp Cumin seeds
2-4 Whole Black pepper corns
1 small Onion
Salt as per taste



Special Utensils

:


Food Processor / Mixer with Wet grinder jar or blender

Ingredients used in preparing Mint Coriander Chutney
Method:
Pick Mint leaves from the stalks. Pick coriander leaves, but do not discard the tender stalks.These give the volume to Chutney
Addition of spinach leaves is optional, but these again add volume and nutrition quotient of chutney , making it more iron rich. So pick few leaves of spinach too
Rinse thoroughly all the greens, drain excess water
In a Food processor/ Mixer, throw in all the ingredients listed and pulse it few times, until you get a smooth mixture.
If needed, add few spoons of water for a smoother paste.
Store it in refrigerator.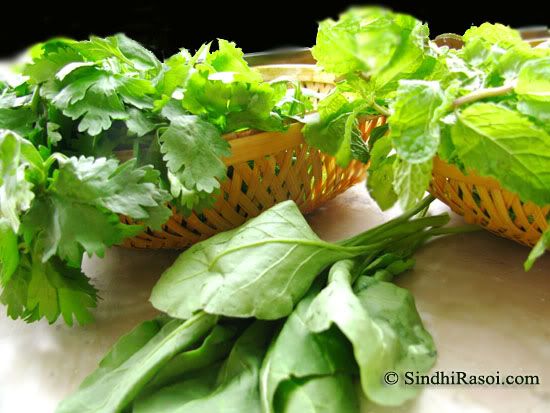 Greens for Mint Coriander Chutney: Mint, Spinach & Coriander
Serving Suggestion:

Can be served as a dip for snacks, finger foods etc.
As a spread on Breads for making vegetable sandwich. Apply butter on one side of slice, place some slices of boiled potato and beetroots , cucumber, onions etc, spread a spoonful of chutney on other side and enjoy this Mumbai style sandwich. You can also roast this sandwich on griddle, or grill it in MW,
You can also use this Dip over roasted vegetables or making

Bhel

(Mixture of puffed rice with

Farson,

an iconic Mumbai Street food)

---
Special Notes/Tips:
The chutney tastes better after a day, when all the flavors have wonderfully mixed.
Make sure to consume the chutney within a day or two, though it could be refrigerated for maximum 7 days.

Spinach is optional, but it adds taste, volume and nutrition to the chutney.
Generally lemon juice is added to this chutney. So if you want to add lemon, skip the tamarind, squeeze a lemon after grinding the mixture. Taste and adjust the tanginess.
In few households, tamarind juice is used instead of Lemon. Though tamarind gives a darker shade, the spinach leaves compensates that by giving a nice green hue to the chutney.
Opptionally some even add a spoon of sugar to the chutney which adds an entirely different flavor.